Last year, I had the good fortune of finding a Pfaff 130 on the curb. These machines are famous for their power and durability. By this, I mean that they are just as comfortable sewing through five layers of canvas as they are all five of your fingers. This is what it looks like — sorry for the crap-tography.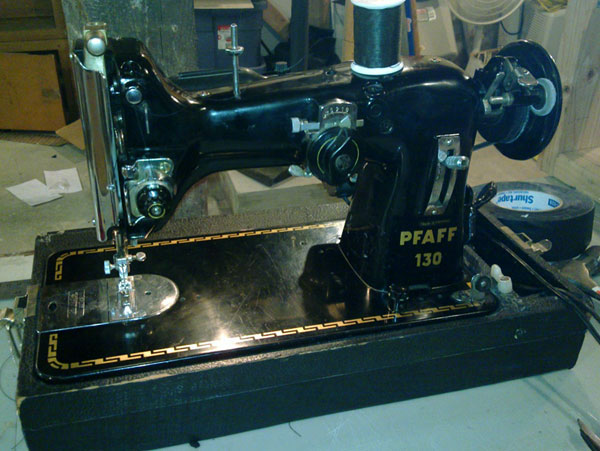 The machine hadn't been loved or used in many years. Tonight, I took it apart completely, cleaned and lubricated everything, repaired the wiring, scuffed all contacts and the motor armature clean, and clamped, glued, and screwed the bottom of the case back together. Incredibly enough it almost worked when I finished putting it back together. The remaining problem was adjusting the tension of the upper and lower mechanisms.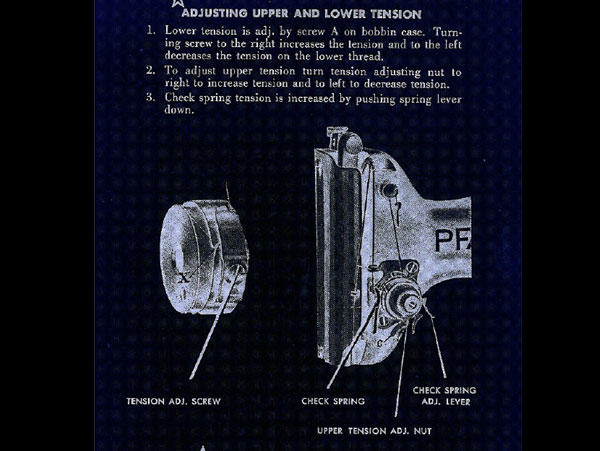 What I'd never fully appreciated before was that the stitches you get from a maladjusted machine are plainly diagnostic. Just look at the image below, from the Pfaff 130 service manual (taken from the Yahoo Group linked at the bottom of this post, BTW).
If the top thread is piercing through the fabric, but not pulling the bottom thread in, the bobbin tension is too high.
If the bottom thread is piercing through the fabric, but not pulling the top thread in, the top tension is too high.
If both penetrate the fabric equally, the tension is correct. Awesome!
(also remember that these things can be conceptualized the other way — if one is never high enough tension, the other probably needs to have its tension reduced)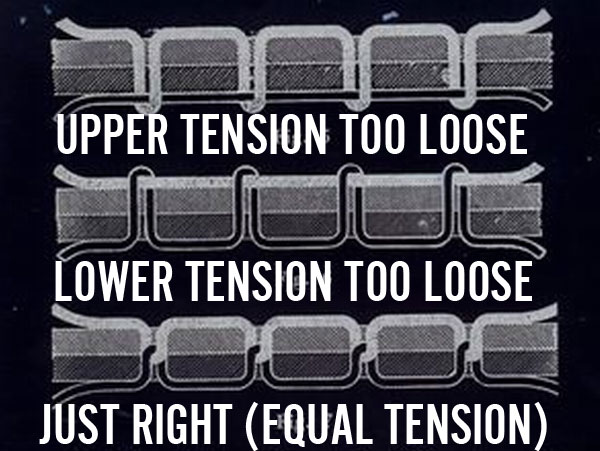 Once I got that done, which took almost two whole hours of adjusting and re-adjusting (but will be a cinch now that I have done it a few times), I loaded it up with a needle and thread and tried to sew some neoprene. After quite a number of frustrating attempts to sew this thin neoprene, I realized that the hold in the needle was too small for the Consew Heavy Duty nylon thread I was using. The symptom that tipped me off was the thread sort of unwinding itself at the eye of the needle. After loading the machine with a "leather" needle, which is heavier gauge and has a larger hole, I was able to sew this little N900 pouch with almost no effort or trouble.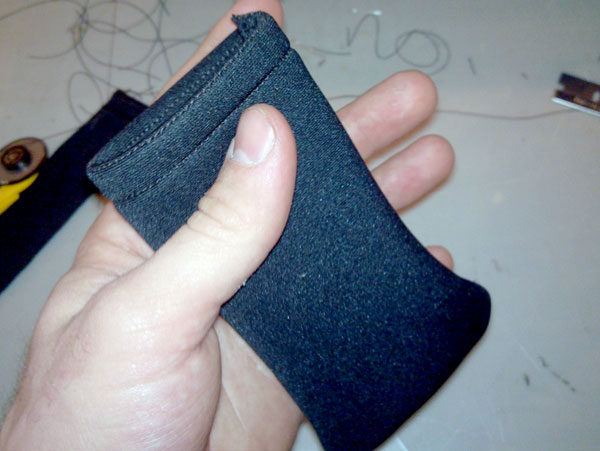 Spending an evening refurbishing this machine reminded me, again, that I am a builder, fixer, maker, artist. Nothing soothes like keeping these idle hands busy.
It's probably obvious that I love this machine. I'm not the only one, there's a Yahoo Group that has manuals and some discussion, and of course, there's always the mass of people chatting all over the web.